15 Early Stage Researcher positions available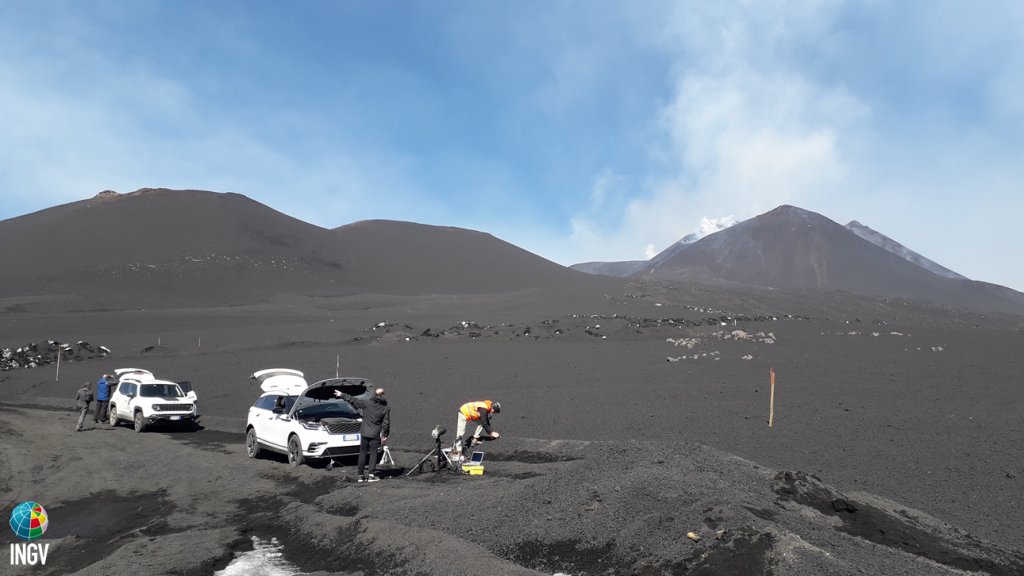 All positions last for three years, starting from March 2022
Who can apply:
Candidates must meet the following requisites:
Be of any nationality, but not having resided or carried out their main activity (job, studies, …) in the country of appointment for more than 1 year in the past 3 years.
Be within 4 years from the degree that in their country, or in the country of appointment, gives access to a PhD.
Not having completed a PhD at start of contract. Current PhD students can apply.
How to apply:
Refer to the contact indicated for each one of the available positions (see below).
Download the brochure for quick information on the available positions.
Read more about IMPROVE ESRs.
Read more about IMPROVE ESRs
The 15 recruited ESRs will develop their research in the frame of a highly cooperative, highly coordinated network, with complementary objectives achieved through individual as well as team work involving other ESRs as well as senior personnel from the hosting and partner institutions.
IMPROVE adopts a multi-disciplinary approach whereby geophysics, geochemistry, lab analysis and experiments, numerical modelling, massive data analysis and automatic signal processing, are exploited in a collaborative, coordinated effort with common objectives. Central elements are two multi-disciplinary, multi-parametric field experiments, at Krafla and Etna, exposing ESRs to professional volcanology engaging them in major research, monitoring and field training. All 15 ESRs participate in both experiments, maximizing training and collaboration, and engage in multiple Tasks according to a multi-disciplinary approach: each ESR is responsible for a specific Task reflecting individual research plan and objectives, and responsible for an ESRs' team involved in that Task (see Table below), while participating in other teams.
WP N.
Task
Team of ESRs (responsible highlighted)
4 (Krafla)
4.1 Krafla field experiment
All
4.2 Deformation model at Krafla

6

, 11, 13
4.3 Numerical simulation constraints on magma thermo-mechanics and processes

3

, 5
4.4 Thermal evolution of the caldera and the geothermal system at Krafla
3,

5

, 15
4.5 Conceptual and semi-quantitative model of the geothermal system at Krafla
5, 9, 11,

15

4.6 Permeability and volatile flux at the Krafla geothermal system, and links with seismo-acoustic patterns
7,

9

, 15
4.7 Assessment of present-day limits in imaging shallow magma reservoirs from multiple geophysical techniques

7

, 11, 12, 13
4.8 Assessment of shallow sub-surface density/mass distribution at Krafla
3, 5,

11

, 12, 13, 15
4.9 Assessment of subsurface mass/energy transfer at Krafla and relative roles of natural vs. anthropogenic sources
3, 5, 11,

13

, 15
4.10 High resolution geophysical imaging of Krafla sub-volcanic system from joint inversion of geophysical data
6, 7, 11,

12

, 13
5 (Etna)

5.1 Etna field experiment
All
5.2 Conceptual model of the plumbing system at Etna

1

, 4, 8, 10, 14
5.3 Magma degassing and its transition modes, and associated geochemical/geophysical signals at Etna
1,

4

, 8, 10
5.4 Automatic real-time system to analyze data by multiple monitoring sensors at Etna
1 , 2, 8,

14

5.5 Volcano deformation dynamics at Etna from analogue experiments
1, 8,

10

5.6 New methods and techniques for ground displacement analysis at intermediate frequencies
1, 2,

8

, 10, 14
5.7 Definition of sets of geophysical signals diagnostic of deep magma movements at Etna
1,

2

, 4, 8, 10, 14
During the field experiments, and in repeated ESRs' individual or group campaigns, the ESRs will make use of a highly professional, top quality ensemble of multi-parametric measurement devices for geophysical and geochemical data collection. Additional tools for top-level research by specific ESRs are represented by laboratory instruments, dedicated software for advanced data processing and numerical simulations, and for massive data analysis and pattern recognition. The overall research methodology is summarized in the scheme below.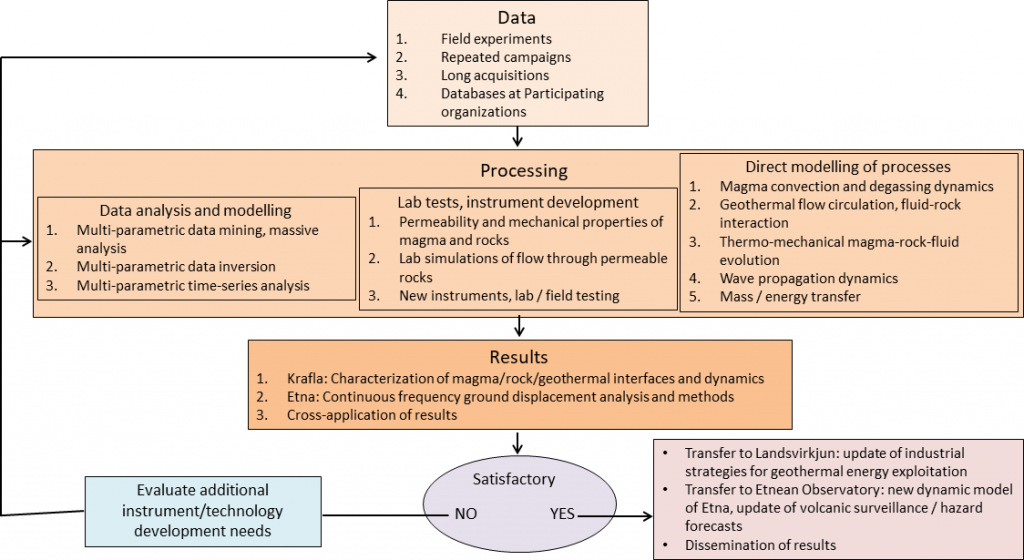 A description of the overall scientific and science-industry objectives, training program, dissemination & outreach program, and data management, can be found at the corresponding WP description here.